Well I'm back in the country after two glorious weeks away. A good time was had by all.
Just a quick warning: This shall be a long post. And also I'm kidding about the destruction, more or less...
We stayed in a gorgeous villa, and from day one my mum was finding broken things and panicking in case the owners thought we were responsible and took away our deposit. They were minor things really, cracks in things, stains on surfaces, etc. The air conditioning in two rooms wasnt working, the workmen got one of them working but not the other, but as the not-working one was in my sisters' room and she doesnt use air conditioning anyway, it didnt matter too much for us. Nearing the second week there was a problem with the toilets, the workmen had to dig up the road outside the villa to fix the problem (I think they hated us for that as it had to be done urgently). And finally mum burnt down the kitchen, well I'm exaggerating there. All that happened was a pan caught fire and went out by itself once we took it off the heat, not a single thing was singed and all the pan needed was a good clean. But it's fun to joke about. Mum didn't cook for the rest of the holiday.
The rest of the holiday went rather uneventfully, with plenty of relaxing in the sun, eating good food, drinking good alcohol, and meeting up with old friends. We learnt more Turkish than we ever have before and I shall teach you all how to count to ten in Turkish. The pronunciations are in brackets.
One = Bir (Beer)
Two = Iki (Icky)
Three = Üç (Ooch)
Four = Dört (Dirt)
Five = Beş (Besh)
Six = Altı (Altuh)
Seven = Yedi (Yedy)
Eight = Sekiz (Sekiz)
Nine = Dokuz (Dokuz)
Ten = On (On)
Well done, you can all count to ten in Turkish.
As I said, the holiday was fairly uneventful until we got back to the airport. It took us over 12 hours from villa to home, and then I had a job interview to get to. Here is a (supposedly) brief timeline of events;
23:00; Wait for pre-arranged taxi to airport
23:10; Phone office to find out whereabouts of pre-arranged taxi
23:15; Taxi arrives at villa, accuses us of not coming into the office to confirm times of pick up, we informed him that we did on the previous saturday, taxi man goes quiet.
00:15; Arrive at Dalaman airport, see size of the queue for check in and grumble.
00:40; Check in and get told by an airline rep that there is a delay of four hours for the flight, (this means that flight hasn't left Manchester yet) but that refreshments should be provided for us.
00:45; Find a place to sit and dump bags with Dad while we go off to check out the selection of duty free items.
01:15; Return with two bottles of Southern Comfort, a bottle of orange liquer, and a large bar of chocolate, look at the screen detailing our flight, it says "indefinite delay" this means plane has still not left Manchester (due to a mechanical problem that engineers were working on)
01:20; Fall asleep on a makshift bed of two wicker chairs (not the most comfy things), Dad and sister sleep on the floor, while Mum reads book and watches bags.
05:00; Awake to sound of Mum and Dad mentioning food, apparently mum and others on flight went to the information desk and kicked up a fuss about refreshments that had been promised but hadn't yet materialised. Rep called England to check if it was ok to do that, and finally we were all allowed a chicken burger, fries and a coke from KFC.
05:20; Finish eating, and go back to sleep, this time on one wicker chair with my head on the table.
07:30; Wake up again, get told that the flight is now scheduled for 08:30
08:30; Board flight and make way to England
10:30; Arrive at Manchester Airport
11:20; Retrieve luggage and rendevous with our taxi home
12:10; Arrive at home, 13 hours after initially starting our journey.
13:00; Leave house for job interview
13:50; Arrive at job interview
A very close thing it was with that interview. I was so tired I could have slept through it, but I didn't. I think I babbled and didn't make much sense though. Ah well, I shall find out today what their verdict is.
And I shall leave you there before I bore you any further with my babblings. Before I go though I shall post a picture from my graduation ball and from my graduation. Both of which I got today.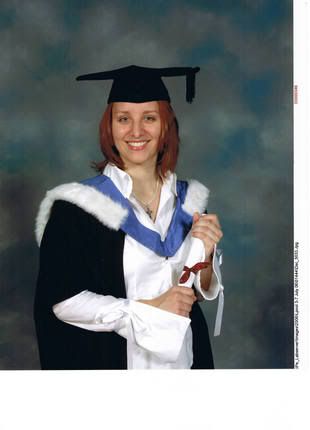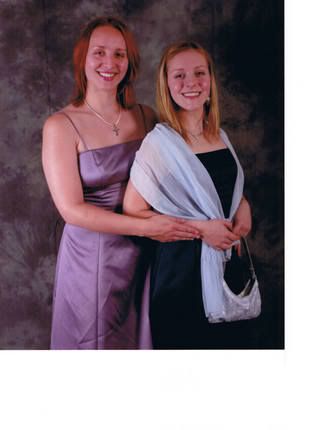 And a couple from my hols
I also have a picture of my in a bikini, but no one shall be seeing that...
Toodles