Well I passed the course and all I have to do now is teach an actual training session with real students, under supervision to be officially known as a trainer. Yay me.
I'll admit I've been back two days but I've been too tired to blog, I considered saying I was too tired to go to work too, but I didn't think that would have gone down well, so I dragged myself into work. When I did get back on monday night I had the fantastic surprise of finding this in an email;
"Congratulations on placing third in this week's So You Think You Can Blog contest!"
Yes, I'm very proud, and I shall display my award for all to see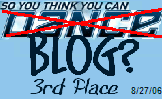 It's a great competition to do and does get the creative juices flowing, keep an eye out at
Theory of Thought
for the dates of the next So You Think You Can Blog competition.
Since I've been zombie-fied for the past few days I don't have much to say except, when you're faced with a "casualty" having a heart attack, never say,
"It's ok, you're just having a heart attack."
And that's Miss Cherry Cola's advice for today.